World Pet Memorial Day was created as a special day to memorialize beloved pets that have passed away. It is observed every year on the second Tuesday in June, and it is a great time to celebrate the lives of your pets. Although pets are only in our lives for a short time, they stay in our memories forever. It's a small consolation, but it's nice to know there are many ways you can honor the memories of your pets this June.
1. Create a Pet Photo Album
One great way to remember your pet is with an album full of photos of the good times you shared. From the time they were a kitten or a puppy till the day they passed on, you probably have many photos to reminisce with.
You can use physical photos and customize each page of the album, or make a digital album to look at.
There are many good, easy-to-use digital photo frames available nowadays. You could upload your pet pictures to one of these frames and display it somewhere in your home as a constant reminder of all the loving moments you experienced with your pet.
Another option is to upload your pictures to an album on your social media account. That way friends and family can remember your pet as well and comment with any special memories they may have.
2. Draw/Paint Your Pet
As long as you have all your best photos out of your pet, why not use one of your photos to draw or paint a portrait of them? Creating art is a wonderful catharsis, and you will have a long-lasting memory to show in your home. Everyone in the family can join in on this activity – the portraits don't have to be perfect. It's the thought that counts!
If you do decide you want a more "show-worthy" portrait to commemorate your pet with, there are many local artists that can be commissioned to re-create your favorite photo of your pet.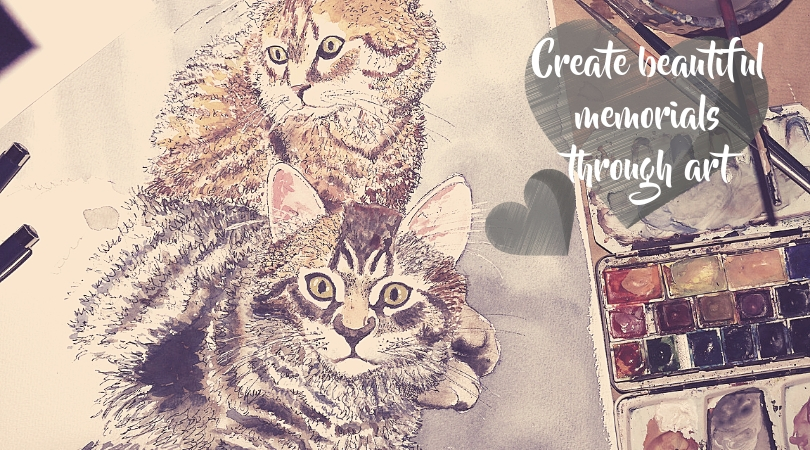 3. Get a Tattoo in Memory of Your Pet
If you're the type that would rather carry a memory around with you for all to see, you could get a tattoo portrait of your pet. Although this isn't an activity that kids can take part in, they can help you decide what picture of your pet you want tattooed on yourself. Instead of (or in addition to) a portrait, you could opt for a tattoo of the name of your pet, a paw print, or a special quote that will remind you of your pet. One favorite quote is by Josh Billings, who said, "A dog is the only thing on earth that loves you more than he loves himself." No matter what you choose, a tattoo is definitely one of the most dedicated ways you can remember your beloved pet.
4. Create a 3D Tribute to Your Pet
A shadow box or 3D collage is another way you can memorialize your pet that has passed. If you still have items that belonged to your pet, such as a leash, collar, tags, etc., you can arrange them in a shadow box as a nice display in honor of your cat or dog.
You can also get your kids involved and have them help you make a 3D collage. This can include paintings or drawings of your pet and his or her favorite things, plus anything 3-dimensional you might want to put on there, such as old chew toys, special blankets, bandanas, food bowls, and more. Spending time with your family while you create these tributes will help you all to celebrate your pet's life in a meaningful way.
5. Plant a Pet Memorial Garden
If you'd rather express your creativity outdoors, a memorial garden is a wonderful way to ensure you always remember your pet. Memorial gardens can be as big or small as you want. You can plant flowers, plants, or trees in your own yard, or purchase space to plant a tree in honor of your pet in a local park. Every time you see these plants or trees, you'll be reminded of the happy times you shared with your pet.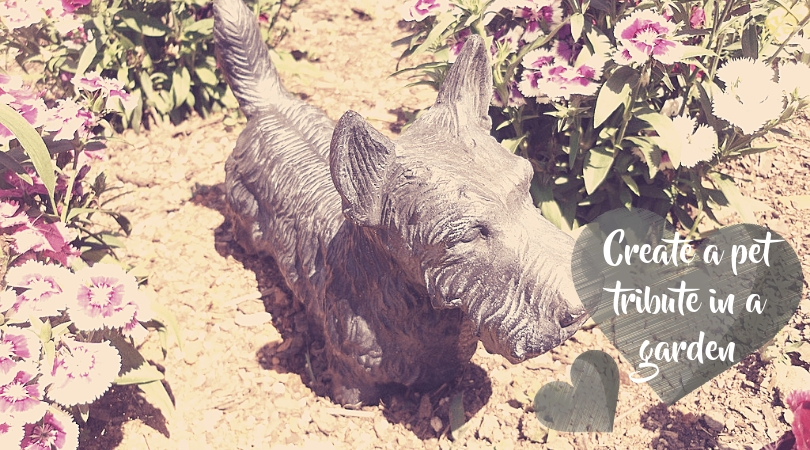 6. Go for a Walk/Hike
Take the whole family and go on a walk or hike in honor of your pet. You could take a walk on a familiar path that your dog loved to go on, or hike somewhere that you think he or she would have enjoyed. Even if your thoughts are with a beloved indoor-only cat, you could also go on a walk outside in an area your pet may have gazed upon from their favorite perch.
7. Donate or Volunteer in Your Pet's Name
There are many local rescue groups and charities that would love to honor your pet by assisting other animals in need. Donations can be monetary, but many rescue organizations also accept donations of dog and cat food, old towels and blankets, etc.
You could also donate your time and volunteer to support your favorite animal charity with anything they might need. In addition to working with animals, many organizations need other types of help, such as administrative work, publicity for the charity or local events, and more.
Although it may seem sad to some, thinking about pets that have passed on is a great solace to many. No matter how you observe World Pet Memorial Day this June, visiting them in your thoughts will ensure your pets are never truly gone.